Dentures and Tooth Extractions

Everyone's smile is unique; so are your goals for your smile. That's why our dental implants provider in Port St. Lucie offers so many implant stabilized denture options to choose from.
Dental Extractions Prior to Your Implant Surgery
If you're getting Teeth in a Day or implant surgery, any diseased teeth will need to be removed first. We always encourage our patients to keep healthy teeth whenever possible. But if you do need an extraction, we can help you.
Implant Stabilized Dentures That Fit Your Goals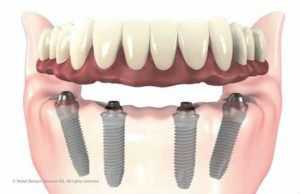 We offer four tiers of implant stabilized dentures for you to choose from, with prices starting as low as $350. Implant that support your denture are just $1100 each.
Economy: This is our lowest price denture and is intended to be used as a temporary healing prosthesis after your Teeth in a Day procedure. Approximately 6-12 months after your implant surgery, it will need to be replaced with a more permanent alternative. But don't worry — Affordable Dentures and Implants offers packages that include the cost of both. Economy dentures are backed by a 1-year warranty.
Custom: Because our Port St. Lucie implant office has an in-house lab, our certified technicians can create customized dentures right here in our building. These prosthetics are made from a more durable acrylic than that used for the temporary healing "plates." A 2-year warranty is included.
Premium: Take your smile a step above by choosing a more durable, cosmetically pleasing solution. This denture option is more natural looking than standard custom prosthetics and includes a 4-year warranty.
Ultimate: For the most natural looking, comfortable, and accurate fitting implant stabilized denture in the market, our ultimate denture line is the best available. Made using a special heat injection technique and Ivoclar technology, these Teeth-in-a-Day will help you feel great all day long. Each of our ultimate dentures is backed by a 7 year warranty. Only about 5% of denture providers in Florida provide this service to their patients!
One of the Few Denture Providers with an In-House Lab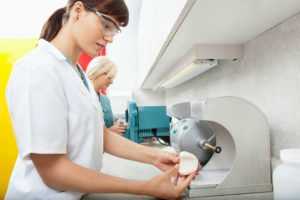 Together, our certified lab technicians have over 75 years of experience crafting custom made dentures.
All our prosthetics are made of quality materials. As such, we're confident that our implant stabilized dentures can provide you with the best option for replacing your missing teeth. Our implant dentist works closely with our lab techs to ensure the very best product for each one of our patients.
Walk-ins are always welcome. Call our Port St. Lucie implant dentist today to schedule a free consultation. 0% financing plans are available.
Not sure what option is best for you? Compare dental implant services available at our Port St. Lucie office.