Comparing Dental Implant Treatments in Port St. Lucie
One of the things we do at Affordable Dentures and Implants in Port St. Lucie is compare options and provide customized, patient-driven treatment plans tailored to each person. Depending on your oral health, how many missing teeth you have, and what your future goals are… we can provide you with an option that fits your lifestyle as well as your budget.
Before discussing what implant treatment is best, it's important to know what a dental implant is. Essentially, it is an artificial tooth root that supports a fixed restoration.
Depending on how many teeth are missing and the number of implants placed, you can choose from treatments such as:
Single Tooth Replacement with an Implant Crown
This is the closest comparison to having your old tooth back again. The single implant supports a porcelain crown that blends in with the rest of your teeth. Our implant, abutment, and crown is just $1995.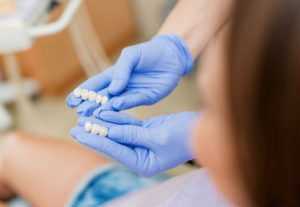 Implant Supported Bridges
Are you wearing a partial denture? Do you have four or five teeth in a row that are missing? We can use just two implants to support a fixed bridge in place.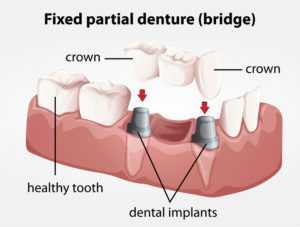 Snap-in Overdenture
Snap secured dentures are stabilized by implants but still removable for easy home care. They anchor on top of your dental implants, so you don't have to worry about them ever slipping out of place. We can even retrofit your existing traditional denture to fit over new implants in some cases. This is a great option for people who have difficulty getting their lower denture to fit securely during the day. No creams or adhesives are necessary! Treatments start at just $1100 per implant.
All-on-4 / Hybrid Dentures
These are fixed, non-removable dentures. They are retained permanently and only removable with the help of your dentist. We use as few as four, five, or six implants to support an entire full-arch denture.
Teeth in a Day
Come in in the morning and leave that afternoon with a new set of teeth. We're one of the very few denture providers with an on-site lab. We can even extract your broken or painful teeth on the same day, no matter how many there are. Our same day implant stabilized denture designs start as low as $350 and are each backed by a warranty.
Schedule Your Free Consultation and Exam Today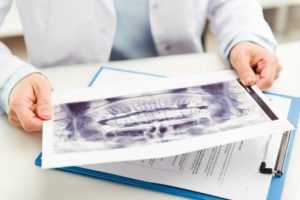 Affordable Dentures and Implants provides complimentary new patient exams, consultations, and x-rays.
We'll be happy to provide you with a free estimate and recommendation if implants are the right choice for your smile. Walk-ins are also welcome!
Be sure to ask about 0% financing on our ultimate Ivoclar heat injected dentures.
Learn more about dental implants and how they are constructed.