Teeth-In-A-Day Dental Implants
Many dental implant providers promise teeth in a day, but at Affordable Dentures and Implants, we have an on-site and in-house lab. Together, our expert technicians have over 75 years of combined experience. These resources allow us to provide some of the very best same day implant supported dentures in Florida… without any hidden fees!
What Are Teeth in a Day?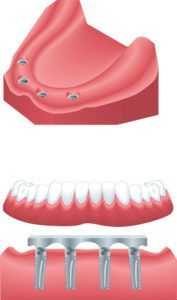 Our Teeth in a Day patients are typically people who are either wearing ill-fitting dentures or need to replace all their teeth at one time.
During same day implant treatments, we first extract the teeth and then immediately place the dental implants into your jaw, where your missing teeth once stood. We use a 3D computer guided process to ensure the most efficient procedure possible!
Then, we take an impression and our lab technicians craft a healing denture to fit over your new dental implants. This implant supported denture fits securely in place and features a streamlined design that follows the natural contour of your bite.
One week later, we will see you for a post-op appointment to make sure everything is healing nicely and that no adjustments are needed.
The Whole Package
Implant stabilized dentures will need to be replaced after your mouth has fully recovered from your surgery. That's because everything from your bone to gum shape can change and cause your initial Teeth in a Day healing denture to no longer fit. It would be like trying to wear the same pair of jeans after losing 30 pounds… it just doesn't work.
Affordable Dentures and Implants in Port St. Lucie offers complete packages that include the cost of your permanent implant denture with your initial implant surgery. Many offices do not do this, leaving their patients caught by surprise.
About 6-12 months after your Teeth in a Day procedure, we will fit a new set of dentures to your smile. Depending on the type of permanent implant retained denture that you select, our technicians may be able to make it right here while you wait.
The four types of dentures that we offer include:
Economy Dentures — Our most affordable option, starting at just $375.
Custom Dentures — A different type of material puts this denture a step ahead.
Premium Dentures — For a more durable, natural, and cosmetic solution, our premium dentures are the perfect choice.
Ultimate Dentures — The most natural looking, comfortable, and longest-lasting option available. We make these dentures using a special heat injector system that's backed by a 7-year warranty.
What to Expect During a Teeth in a Day Treatment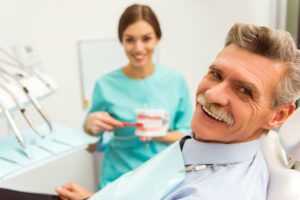 For our implant stabilized denture patients, we will schedule you to come in first thing in the morning for your implant surgery and any necessary extractions. Sedation is available on request to help you relax.
Our lab technicians then create your denture here in our office so that it's ready to be installed by that afternoon. You won't ever have to go home with a mouth full of missing teeth!
Schedule a free consultation today to find out if Teeth in a Day are right for you. Our dental implants Port St. Lucie dentist welcomes walk-ins. Call now!